How many times have you been to Italy, what is the charm of it?
Chatting with people who like to travel, there is often a question: Which of the countries you have been to is the most impressive. I found that many people's answer is: Italy.
Usually, it's hard for me to have the urge to go a second time to a place I've been to once. But Italy is a bit like Xinjiang in China. Even if you have been there many times, it is worth visiting again and again. According to one friend, his friend went at least 20 times. And there was an unreliable couple by my side, who fell in love with them after they went there. They sold their house in Beijing and went to buy a house in Italy. Although they suffered a loss as expected, they still regarded Florence as a holy place in their hearts.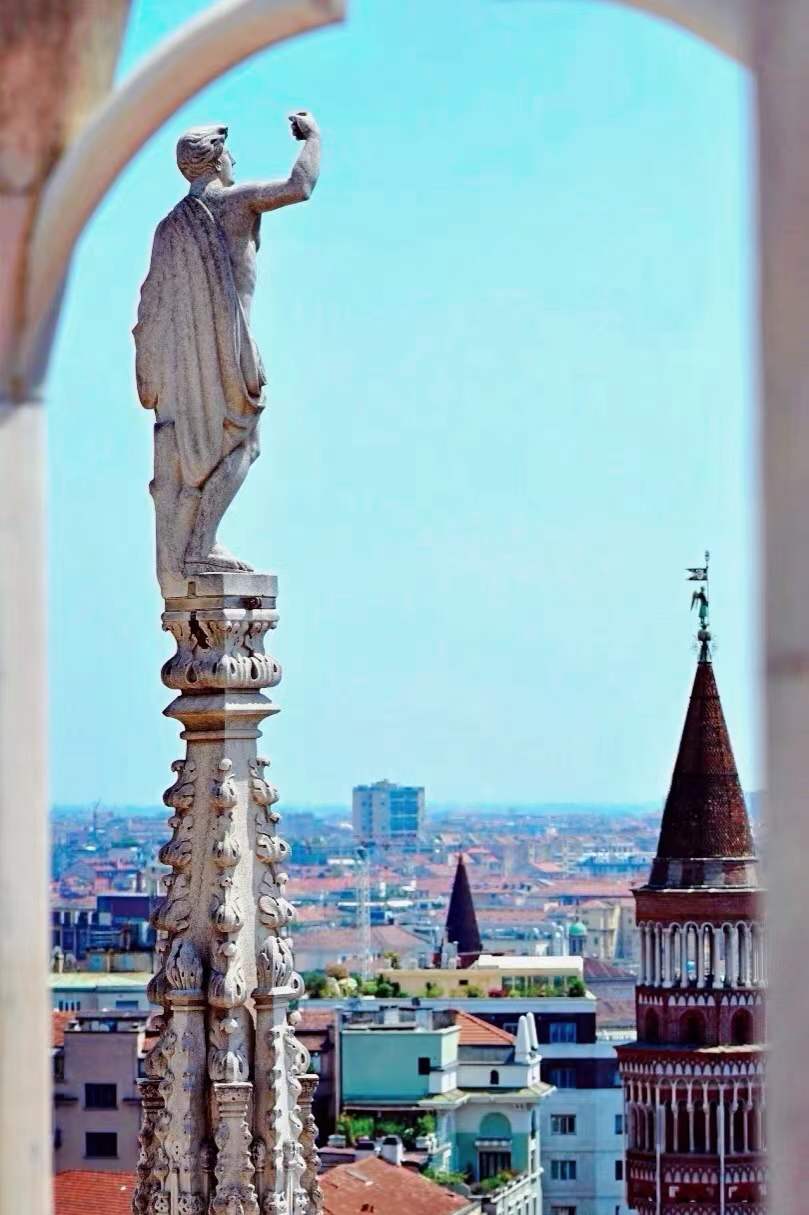 Why Italy?
Italy ranks fifth in the ranking of inbound tourism countries in the world, followed by France, the United States, Spain and China. In Italy, news about poor security and stealing Chinese people's belongings frequently appeared in the news. Even once when I was on the Austrian-Italian border, an Italian buddy pointed to the south and said to me: Look, there is a country full of thieves ahead. Even Italians make fun of themselves.
Due to the epidemic, I have not been able to go abroad for a long time. Although I have been there five or six times, if I ask where I want to go most, it is still Italy.
The reason is probably that Italy is very suitable for tourists in terms of food, scenery, history, culture, etc. The greatest significance of tourism lies in the differences and unforgettable information points that tourists find. In this regard, Italy's tourism resources are too rich.
China and Italy are the two countries with the most world heritage sites on earth (I think the world heritage is a bit of a continuation after the review of this thing). But the difference from China is that although many world heritage sites in Italy also belong to "sufficiency", it seems that every place in the country from north to south has its own characteristics, rather than being the same, and those ancient towns also have their own characteristics. feature.
Who would have thought? Italy first originated from a small city-state in Rome, and later gradually became a super empire spanning the continents of Asia, Africa and Latin America. The reason why Italian cities have their own characteristics is that European cities have better preserved their historical heritage, and many old houses and churches have a history of hundreds or even thousands of years. In this respect, our country suffers a lot, because Europeans use stone to build houses, but we use wood. A fire can burn the Epang Palace, but the Great Wall cannot be burned. In addition, the Renaissance also began in Italy. From ancient Rome to the Renaissance, the famous names of each era are vividly displayed in different cities.
Usually, if tourists follow the route of a regular tour group, it must be Rome-Florence-Siena-Venice (plus Milan + Cinque Terre if time is sufficient). But for Italian travel, it's not enough.
The first time I went to Italy was by train from Austria, and the first thing I got there was the place where the famous song was sung: Bressanone. The famous cities in the north are Milan, the fashion capital, and the world heritage cities of Vicenza, Verona, Padua and Venice. Just walking around these places makes a big difference. Women who like shopping will definitely like Milan and Venice, where there are endless small shops that can be visited endlessly. If you like history and culture, then these world heritage cities have their own characteristics, the oldest botanical garden, and Gothic buildings that have been left for thousands of years. Next to Milan is the beautiful Lake Como.
If you have a certain age and like football friends, you will definitely like Italy. Since Serie A broadcasts entered China in the late 1980s, the earliest Chinese audiences saw the Milan duo, Juventus, Naples and so on. To the west of Milan is Turin, where Juventus is located, to the south is Genoa, and further south is the Cinque Terre and Pisa. The two major cities in the center of Milan to the southeast are Parma and Bologna. Parma is said to have the best ice cream in the world (of course we can't use the word "most" strictly), and Bologna is also a heritage-rich medieval city, which is another transit point, usually east along the Adriatic Sea Traveling, you can start from here. To the east is the tourist resort Rimini and the small pocket country San Marino. I remember that the Winter Olympics were launched, and the 30,000 San Marino shooters actually won 3 medals. Further south from here is a beautiful city on the east coast of Italy, with beautiful scenery, but relatively less famous.
If the north is centered on Milan, Venice or Bologna, then the north central is centered on Florence. How beautiful the countryside is in Florence, you can watch the movie "Under the Tuscan Sun", endless fields, hidden countless medieval cities: San Gemignano, Monteriggioni and a lot of mouthful names. In the south of Florence, there is a mature punch-in tourist city, which is Siena, the ancient city of the millennium.
The central region is centered on Rome, and all roads lead to Rome. This is the purpose of the Romans to manage the huge empire and ensure the smooth flow of traffic. But now, this famous saying has also been extended to: If you want to achieve a goal, there are many ways, don't stick to one of them.
How about Rome? For me, if there was only one must-see city in the world, I would choose Rome. Colosseum, Arch of Constantine, Vatican, Pantheon, Castel Sant'Angelo, Piazza di Spagna, Piazza Venezia, Trevi Fountain… I think a week might not be enough to take a closer look at Rome. But before going to Rome, be sure to watch the old movie "Roman Holiday" starring Parker and Hepburn. When night fell, I was walking in the area of ​​ancient Roman ruins, looking at the statues of Caesar, Trajan, and the ruins left by ancient Rome behind me. At that moment, I really felt that I had traveled back to the past, and it seemed that everything had changed. It's so incredible. Although a place like the Mouth of Truth is a bit boring, with the blessing of Roman Holiday, why not leave a photo?
The traffic in Rome is also very convenient. I used two free time to go to Perugia, the capital of Umbria, one day. This city is actually on the mountain, and there are escalators to go up the mountain; the other day, I went to St. Assisi, where Francis was born. Both places are very beautiful, especially Assisi, which is quite picturesque. I also met a marathon, and foreigners really love to hold sports competitions.
The largest city to the south of Rome is Naples, one of the world's three major night-view cities. It is famous for chaotic thieves and many robberies. Of course, I think he also has a very famous person: Maradona. Naples is the starting point for the beautiful Amalfi Coast, Pompeii, Caprini, and Sorrento. The beauty of Amalfi and Cinque Terre echoes north and south, and Mount Vesuvius once destroyed the ancient city of Pompeii overnight. . The famous Spartacus also fled to the volcano here, everyone can watch this American drama, try not to watch it in public.
There is probably nothing to go further south in the western region. I like the eastern Bari region very much. It just became popular in China, and the epidemic came. The thousand-year-old ancient city of Matera to the south of Bari, not long ago, the last episode of 007, there is a scene here, and the small village of Alberobello in the southeast is like a fairy tale, there are many small houses like mushrooms, and many surrounding villages are very beautiful. Lecce, the largest city in the Southeast, its football team is known as "Little Pepper" in Serie A. Does anyone still remember it?
Writing here, I feel that I have written a running account, but there is still the last Sicily left. Sicily has too many literary works, mafia stories, Neptune filming locations, film and television works Sicily trilogy and so on. For example, Palermo, Cefalu and Syracuse involved in the film, as well as the legendary city of Ragusa in the sky, Modica, the city of chocolate, and Agrigento, the city of ancient Greece, I want If you play thoroughly, a week may not be enough. In fact, there are two options from Sicily to the south. One is Lampedusa, a small island in the middle of the Mediterranean Sea. The Rabbit Beach here has been rated as the most beautiful beach in the world by European media. The other is to go to Malta, a small Mediterranean country. At that time, I hesitated for a long time and went to Malta. This small country is too beautiful.
The influence of Italians in the Western world is not only the influence of Rome, but also pizza, pasta, ice cream, chocolate, etc. The food here is quite suitable for our Chinese appetite. As for thieves and robbers, they do exist, and it is better for girls to go together. However, except for a few big cities, the people in most areas are still very enthusiastic, especially the more enthusiastic they go south.
It is difficult to evaluate what kind of country Italy is now. It was so powerful in ancient Rome, but it became an uncompromising wine bag and rice bag during World War II, and it is still considered to be the oil bottle of the European Union. You say he is strong, there are so many thieves and homeless people. In the south, there are many young men with big waists and big waists who ask for money. In the morning market in the north, "France Pierre Cardin" is sold as a famous brand; you say he is poor, he is highly developed A capitalist country with world-class yachts, cruise ships, furniture, leather shoes, and a slew of luxury brands such as Gucci, Versace, Prada, Valentino, and Fendi.
Italians are also called Chinese in Europe. In addition to having a long history, many customs and habits are very similar, including bad habits such as being noisy and not queuing. Of course, these are also inherent impressions. Strong contrast, long history, rich cuisine, and rich careful thinking, I think these may be the reasons why Italy is the most popular among Chinese people. Of course, the above only represents my personal opinion. I always feel that when traveling, sometimes, from certain points, I find myself, or in other words, the world is so big, how to find my place.